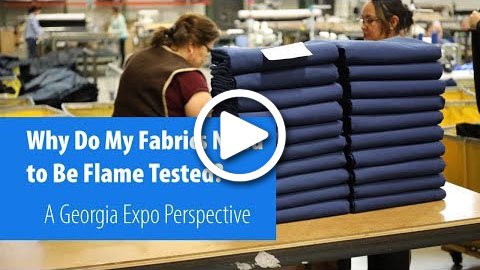 What is flame testing and why it's important for my business?
At Georgia Expo, we believe in manufacturing the best products possible, part of that is making sure that all of our fabric is flame tested and met or exceed the industry requirements. There is no national standard for flame testing, most states follow the California standard, California Small Scale and NFPA 701 which measures how the fabric response to being exposed to open flame. We also test to Canadian standards CAN/US109-14 and CAN/NFPA 705.
To pass these tests, the fabric must not exceed certain char lengths and afterflame loss. It also measures how much of the material may disconnect from the drape when exposed to fire and if it remains burning when it falls. To pass these tests, there has to be no transfer of flame when the burning textile comes in contact with anything else.
Passing these tests is not only crucial for your safety and the safety of those around you when you are displaying it is also the law in many states. Fire marshals have strict regulations in place for facilities and even require certificates to prove all the material in a building has passed fire testing. Without these certificates, you may not be allowed to use your drape and have to take it all down. At Georgia Expo, we make sure send flame certificates with every order that contains fabric (drape panels, skirts or wholesales fabric) and the fire test seal printed on the tags of our products. If you misplace your flame certificate after purchase, we are happy to look up your order and provide you with a replacement.
There are three different classifications in which fabric can pass these tests.
Inherently Flame Resistant (I.F.R.) – This type of cloth has flame resistant fibers woven into it to make it the highest level of flame resistant. It will remain flame resistant for the whole life of the fabric, or up to 25 washes.
Durable Flame Resistant (D.F.R) – This textile will pass the flame tests even when washed up to 5 times.
Flame Resistant (F.R.) – At this level, the material has been treated topically with chemicals so that it will pass the flame tests. This topical treatment doesn't last past one wash.
All of Georgia Expo's fabrics are rated at either Inherently Flame Resistant or Durable Flame Resistant. Banjo, Poly Premier, Poly Knit, Sheer and Performance Velour™ fabrics are all IFR and Commando and Duvetyne are DFR.
At Georgia Expo, we believe in doing things right the first time and supplying our customers with the highest level of quality in our products. That is why all of our material can pass the flame resistance test, and we provide you with the certificates to prove it. We not only want to keep you safe, but we want to make sure you have the best of the best when it comes to your trades hows and events.