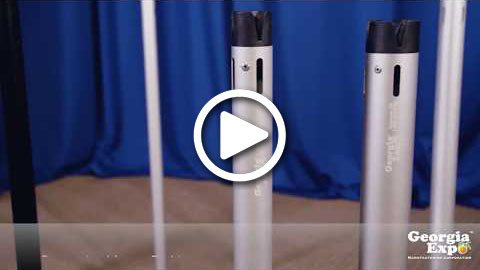 We offer the widest selection of Pipe and Drape uprights on the market. From fixed height (non-telescoping) to telescoping with many upright models to choose from, Georgia Expo is certain to have the perfect upright for your application. Pick from our most popular, easy to install Slip-Fit System uprights, known as the time saver system or our easy to store Screw-In System, known as the space saver system.
Every upright type is now also available with a CastleTop® addition, part of the Pipe and Drape NEXT™ system developed by Georgia Expo. This system was designed to eliminate some of the most predominant issues in pipe and drape, specifically torn slots from hooking and unhooking uprights. CastleTop® inserts can be retrofitted onto any standard upright or purchased pre-installed on any of the upright options below.
Watch our Upright video to learn about the attributes, applications, and benefits of all our Upright options, or use our Upright selection tool to help you find the perfect fit.
These uprights are the most affordable, but are not adjustable to different heights.
8' uprights are the standard (largely because the standard trade show booth is 8' x 10') but 3', 6', 10', and 12' are also available.
Available in 1.5" or 2" diameters.
Portable options include the Break-Apart Upright or the Quick-Fold Upright.
This model is the easiest way to adjust uprights and does not require a ladder.
Includes Dropstop™ technology, which catches the inner pipe (if ever dropped accidentally) from sliding through, preventing any damage.
Features a screw on collar that can be replaced with wear
Features larger, more intuitive button for easy adjustment
Includes labeled height increments on the pipe.
Wide variety of height ranges.
LCB is short for "Locking Clamp with Button Lock" and is used to adjust the uprights in 1-foot increments.
The button lock allows for a safe, positive lock that won't fail or slip. The locking clamp adds additional security or allows you to lock in heights that fall in between the
incremental 1-foot adjustments.
This the best upright for systems that will stay up for extended periods of time.
The LCB is exclusive to Georgia Expo and includes the only 1.5" telescoping upright on the market.
Wide variety of height ranges.
All uprights are available in aluminum or black anodized finishes. All uprights are available in the traditional style with punched slots, or with the CastleTop® addition. Put simply, CastleTop® is a small but powerful addition that eliminates the need for slots on uprights (which can be damaged over time), eliminates drape snagging on torn slots or tops of uprights, eliminates the 'top bump' on rows of drape, and significantly decreases set up and take down time.