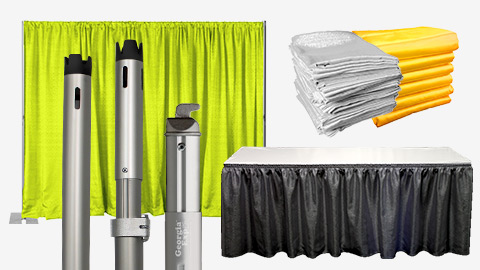 Pipe and Drape is made up of four basic components: Bases, Uprights, Drape Supports, and Drape. All of these components, when put together, is what's known collectively as "Pipe and Drape." It is the fastest and most economical way to divide, define or decorate a space. It's ultra-versatile and configurable, easy to set up, no tools required. Traditionally it's seen at trade shows, and conventions to create booth spaces but also used to create stage backdrops, room dividers and draping for weddings, parties, sporting and political events.
These make up the foundation of the pipe and drape system. Generally, these are made from steel and utilize a pin that is then used to attach your uprights. The base size you need is determined by the height you wish to cover. The taller you go, the larger and heavier base plate you'll need.
(also known as crossbars) dictate the width of the space you need to cover and are the horizontal aluminum pipes that hold the drape panels. Offered in both fixed length and telescoping styles, the most popular sizes are 6ft-10ft or 7ft-12ft.
Drape panels are used as dividers, backdrops, or as part of the event décor. Depending on your purpose for setting up pipe and drape there is an array of fabric you can pick from to accomplish your goal. If you need help in determining the type of drape you can learn more about our different fabrics we carry. You can also request free fabric samples so you can try before you buy.
Pipe and Drape can be bought and assembled by the piece, but is oftentimes sold as pipe and drape kits that make it easier to make sure you are purchasing exactly what you need. We also have a team of inside sales staff ready to talk you through the perfect solution for your needs. Give us a call 1-800-433-9767, email [email protected] or send us a chat.