Georgia Expo manufactures and stocks the largest selection of Pipe and Drape Base Plate Nationwide.
We carry traditional 8" x 14" and 16" x 14" base plates for trade show booths as well as larger sizes like 18" x 18" and 24" x 24" for telescoping pipe and drape systems. We offer large heavy-duty bases in 18" x 18" and 24" x 24" sizes. For smaller profile installs, check out our new Cross Base that folds flat for optimal storage. We also stock four dimensions in our screw-in style base plates recommended for permanent install applications.All our traditional style bases come standard with a stacking slot at no additional cost.
Stacking slots help you stagger stack your bases for increased storage space. The base plate pin is also included in the price of the base. We offer several sizes for base pins; the taller the pin, the greater your upright's stability. Traditional bases also come standard with several holes for pin placement. These are handy for placing your pipe and drape up against a wall or in a corner. We offer corner holes on base plates over 18" standard at no additional cost. We also provide carrying handles on our larger bases at no extra cost.
All our bases come in a standard silver galvanized finish or black powder-coated. You can also add Rubber Edge Protectors as an upgrade to most models.We also offer additional weights to use on top of your base plates. Check out our Rubber Base Weights and Saddle Sandbags to increase the stability of your setup.If you need Pipe and Drape Bases, you have come to the right spot. If you do not see what you are looking for on our website, please call in and speak with one of our sales reps (770-447-4339). Customization is available depending on quantity.
Screw In System
"The Space Saver" because the bases stack compactly on top of one another.
Method of attachment is a threaded portion at the bottom of the upright screws into a threaded hole on the base.
Slip Fit System
"The Time Saver" because slip fit pipe and drape can be set up and broken down very rapidly.
Method of attachment is the upright slips over a pin that sits pointing up from the base.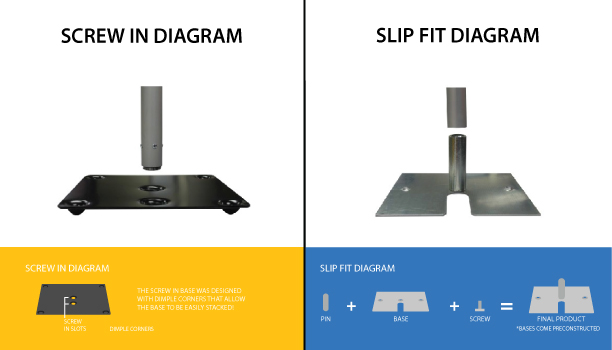 The Screw In System is the original standard in pipe and drape. For many years this was the only option available. It is very easy to store because the bases stack closely on top of one another, creating a very small footprint when the product is put away.
The Slip Fit System was developed in response to customer demand for a pipe and drape product that can be set up and broken down very quickly for high traffic, constantly shifting venues and the decorators/contractors who serve them. In this setup the uprights quickly slot over the pin on the base allowing the user to rapidly set up or remove their product.
Today, the slip fit system is our best-seller. Both configurations are used by customers of all sizes and types but they tend to have specific requirements pushing them to use one over the other.
The Screw In System is better for customers for whom one or more of the following is true:
Do not have to move or reconfigure the installation frequently.
Have strict space limitations for storage.
Already have an extensive inventory of Screw In System components.
Customers use the Screw In System for many different things. Examples include:
Small business such as a photographer using a Screw In System back wall as a backdrop setup.
Photobooth rental companies.
Venue owner who does not frequently alter his hall from a standard configuration.
Party Rental store with limited space for pipe and drape storage.
The Slip Fit System is better for customers who:
Are more constrained by time limitations before and after events
Have ample storage space
The Slip Fit System is the system of choice for customers who are on a time crunch. Customers such as:
Party Rental companies who set up events for customers for single-day and other short term events at locations with strict setup/removal times.
Heavily booked venues that offer pipe and drape setups to their customers.
Trade show decorators/contractors who are required to quickly load in and load out for closely spaced bookings.