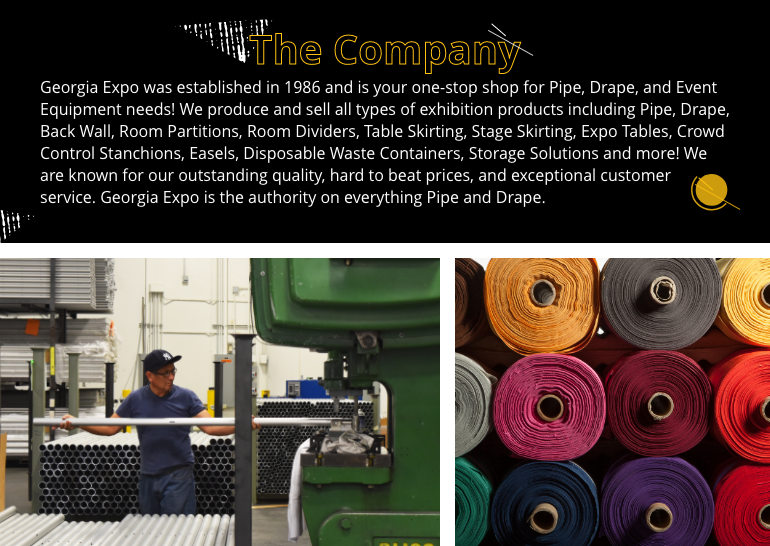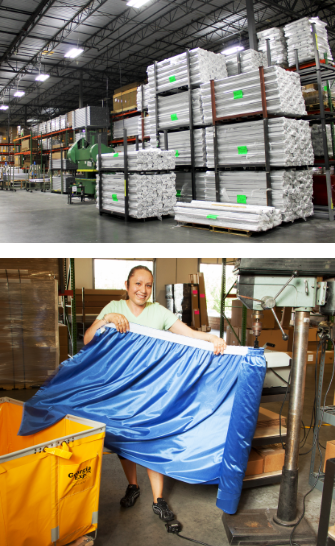 Our factory and main office are located in Suwanee, Georgia. We are just about 30 minutes north of Atlanta. Being located so close to a large
metropolitan area gives us a significant advantage of getting our products to you both economically and conveniently. With the amount of competition
in the freight industry and a dedicated freight specialist on staff, we are able to shop not only for the best prices, but the best companies to ship your
products in time for your event.

We produce and sell trade show and event equipment and our products run the gamut on all things exhibition related. However, our most popular product by far is Pipe and Drape. We like to say that Pipe and Drape is the best way to define space. It has been for the past 30 years, and continually serves as an inexpensive, efficient, and remarkably elegant way to accentuate and stylize any affair.
Although you may or may not be familiar with the term Pipe and Drape, you've definitely seen it in use. It's everywhere: trade shows, graduations, parties, weddings, and places of worship. Even U.S. Presidents use Pipe and Drape as backdrops for their public speeches. Georgia Expo is able to handle the needs of just about every event or floor plan, but we don't just stop at Pipe and Drape; in fact we carry an extensive line of related exhibit and decoration products such as velour drape panels, easels, crowd control stanchions paired with velour rope, exposition tables, table skirting, stage skirting, storage solutions, photo booths, telescoping uprights, and much more! We really do have a variety of products to fit every company's need or event. We offer both the highest quality standards and unbeatable low costs.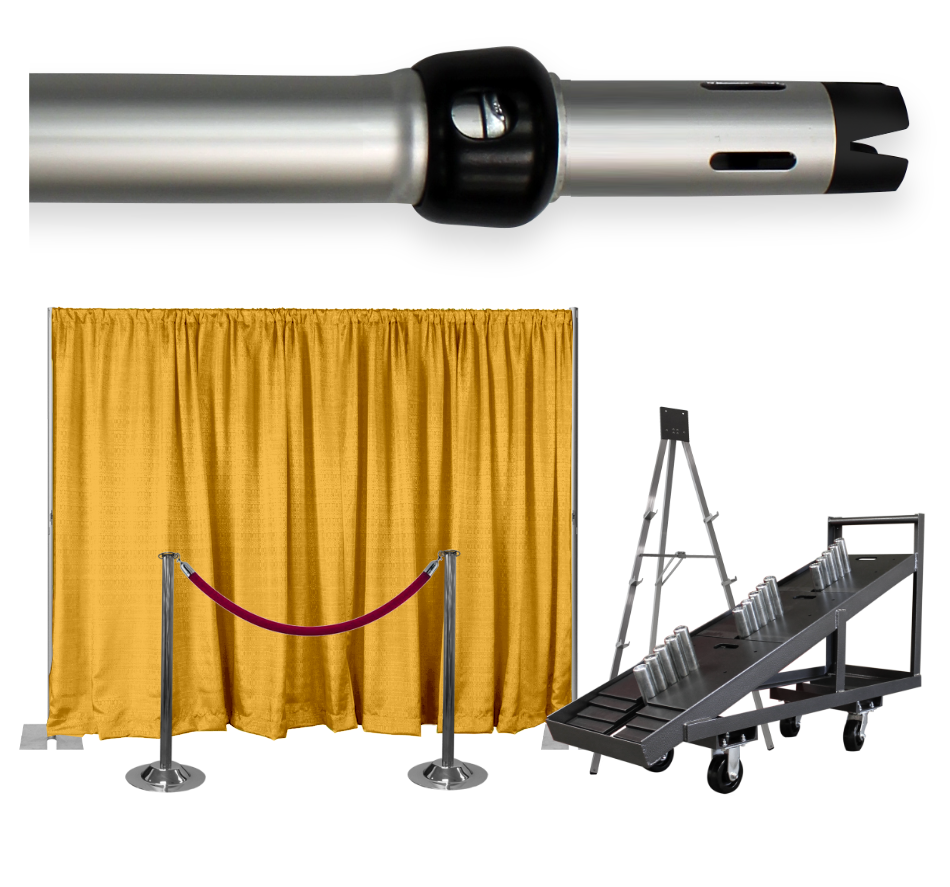 We pride ourselves on keeping our workforce, working in America. Our employees are dedicated to exceptional customer service and never settle for
second best. Here at Georgia Expo, we build lasting relationships whose foundations are steeped in outstanding workmanship, quality materials,
experienced sales and service personnel, and competitive pricing. We act as the consultant on our event products and will work with you to make sure
you are getting exactly the best fit for your event. We are a diverse group with 70% of our employees representing underrepresented populations. All
of our hourly workers are paid more than the minimum wage, and all paid above Atlanta's living wage. We provide health and time-off benefits to all
full-time employees, including our manufacturing team. We also love our office doggos!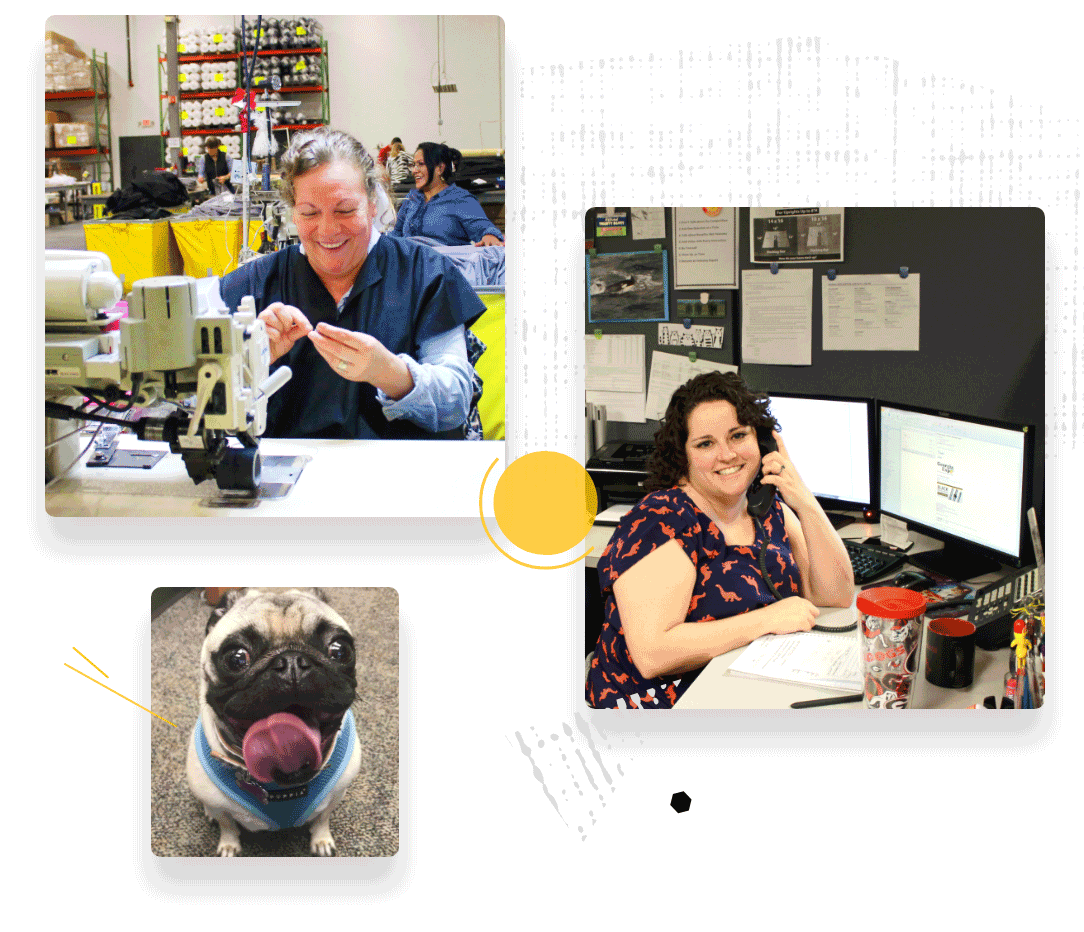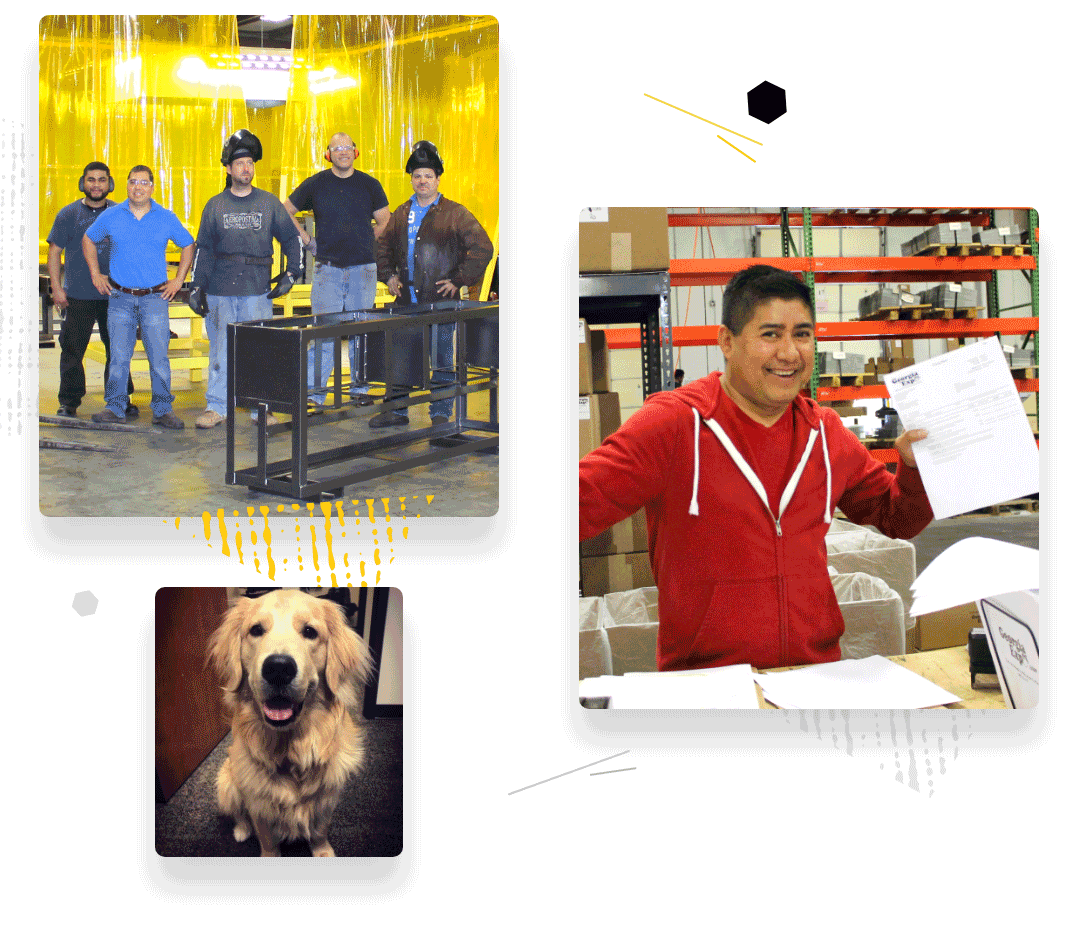 The beautiful thing about Pipe and Drape is that its uses are limited only by your imagination. Our customers range across all industries and include anyone that has an event or room to decorate, organize, or define space in. Although our dedication to being a service provider and relationship builder leads us to prefer to make long-term friends over customers, we sell to all sorts of industries:
Trade Show Decorators / Service Contracts
Party Rental Companies
Event and Wedding Planners
Catering and Reception Halls
Conventions and Civic Centers
Parks and Recreation
Colleges and Universities
Churches and Community Centers
Hotels and Conference Centers
B2B
State Fairs and Festivals
Audio Visual and Production Companies