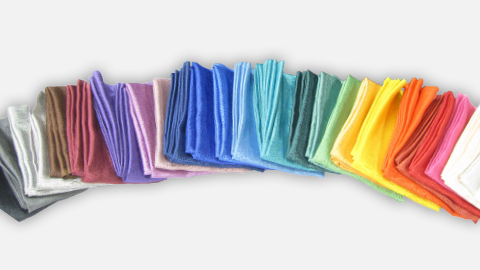 Drapes are arguably the most critical component of pipe and drape and will be your background medium for creating a beautiful party, stage drape, trade show booth, backdrop, to mask or hide equipment and hundreds of other applications. We offer the most popular fabrics for a full range of applications. Explore all the options below including all made to order, pre-sewn drapes or fabrics by the roll to create Tent Swag, Ceiling Drape or masking. You can also compare and contrast our fabrics easily, and you can always order a Free Fabric Sample before purchasing. Still not sure? Give us a call, our inside sales team are experts happy to help you pick what's best for your business!
Drapes for Pipe and Drape, Trade Show Booths, and More
Banjo Drape is the industry standard for trade shows using pipe and drape, while Poly Premier Drape is quickly becoming the popular alternative. Performance Velour Drape is a higher-end fabric with a luxurious look and feel with the added benefits of being 100% blackout, lightweight, and washable.
Backdrop Drapes for Weddings and Other Events
Sheer Drape is the go-to fabric type for weddings due to its beauty, translucence, and other properties. Sheer fabric can be used as backdrop drapes for weddings, wall drapes for weddings, or even as ceiling swag. It's also an amazing fabric to use for wedding uplighting.
Blackout Drapes
Blackout drapes are used in a number of applications where the masking of light is desired. Duvetyne drape is a popular choice in the Audio-Visual industry and although it is semi-blackout, its inexpensive costs make it viable even as a one-time use fabric if needed. Commando Drape is the popular choice for a full blackout drape, and it is a lighter weight and a lower cost alternative to Velour. Performance Velour Drape remains the top choice for a 100% blackout fabric in any available color.