Sheer, which is often times referred to as Voile, is a diverse and popular fabric in the wedding and event industry. Drape panels are often times ordered at taller heights than your Uprights and puddled or pooled on the floor for a romantic, soft look. It is also used for up-lighting and creating layers of drape using Valance Hangers or Universal Clamps. as well as Tent Draping, Rafter Draping, and several other creative and unique applications.  It's very translucent, soft, and flows beautifully. It's available in the most popular wedding colors including lots of neutrals that can be up-lit using colored lights. It's sewn to 118″ wide with 4″ pockets standard on both the top and bottom of the panel. Our popular heights are listed above but if you need a different or custom height, please contact a sales representative.
The Georgia Expo Difference.
All panels come standard with 4″ pockets on both top and bottom of the drape so it can be hung both ways, extending the life of the panel. Our sewing team double-back-tacks each first inch of the pocket so that the 1st critical inch that's used to string your drape support has extra durability. When we cut the drape, we lay out each panel flat on our tables to relax the bias of the fabric ensuring a straight and even cut each time.
Edges are heat treated to prevent fray.
Sheer is traditionally very close in shade from order to order but can be dye lot sensitive. We use a color scanner to take the human eye out of the equation when matching dye lots. If you already have Sheer Drape in your inventory, we are happy to match your dye lot as close as possible. Just give us a call (1.800.433.9767) and we'll look up your last order and send you out the closest dye lot match for your approval. If this is your first order of Sheer, we'll keep your shade number on file, and if asked, will match it as close as possible for your next order!
Sheer Drape is typically sewn to 118″ wide roll and we recommend 4-6 panels per 10ft. section of Pipe and Drape.
Inherently Flame Resistant (I.F.R.)
Passes NFPA 701 Test Method 1, CA Title 19, Section 1237 Small Scale, CAN/ULC-S109-14 Small and Large Scale
100% Polyester Fabric
All Georgia Expo Fabrics ship with a Flame Certificate
Sewn to order
*CAN/ULC-S109-14 Small Scale Flame Test effective on fabric purchased after March 30th, 2017.
*CAN/ULC-S109-14 Large Scale Flame Test effective on fabric purchased after February 30th, 2018.
*Due to differences in photography, lighting, color correction and screen color variances our online images may not be an exact color match to the fabric. To avoid discrepancies, please order a free fabric sample before ordering. We do our best to represent each color as accurately as possible but please note that all drapes are made to order and non-returnable.
*Please note that dye lots can vary. If you are trying to match existing inventory, please request a dye lot sample from a sales representative.
*Please note, while not common, drape can vary in height/width +/- 1″.
How many panels of Sheer do you need? Check out our fullness comparison examples below: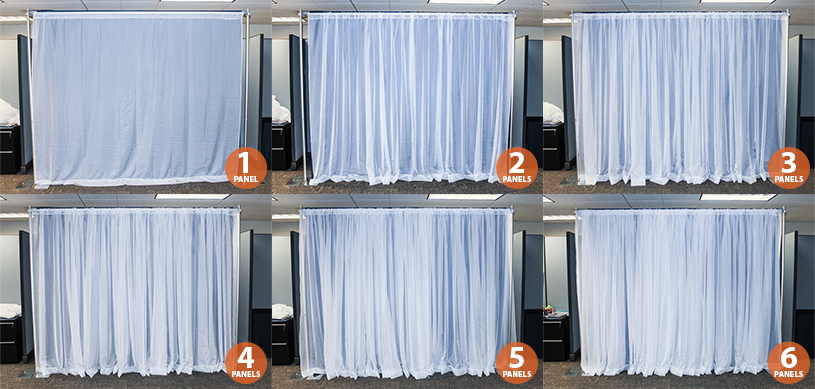 CALIFORNIA PROPOSITION 65 WARNING: This product contains chemicals known to the State of California to cause cancer and birth defects or other reproductive harm.
For more information: www.P65Warnings.ca.gov
Disclaimer: Pipe and Drape should never be used where tip-over could cause harm or damage.