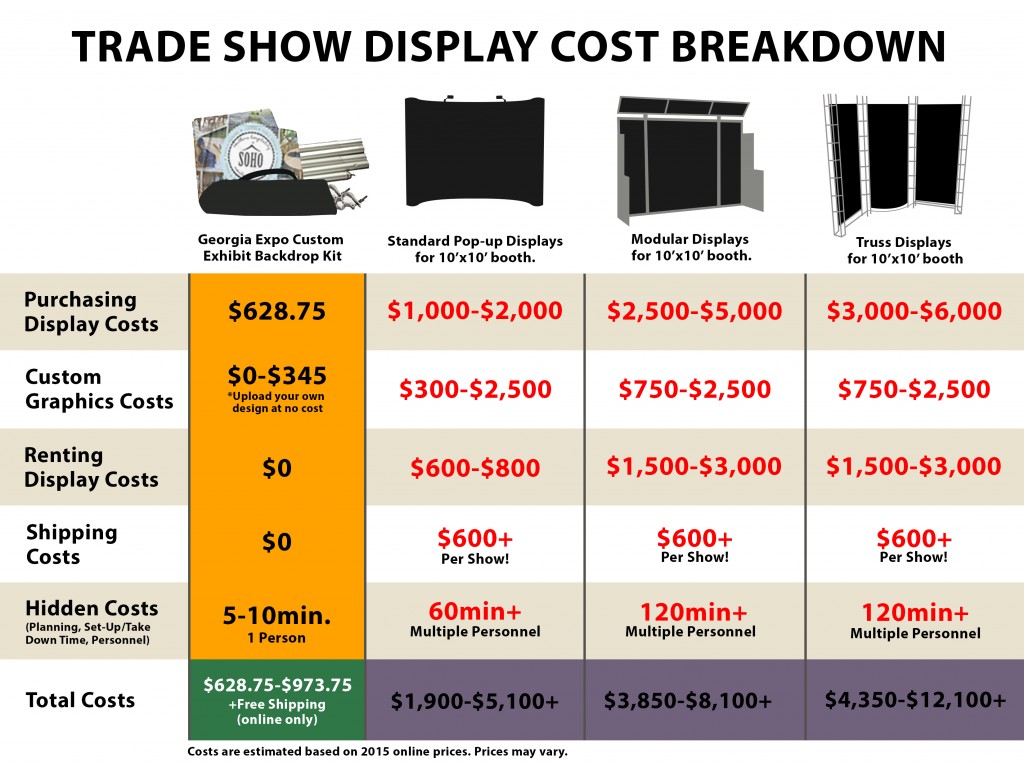 If you've ever exhibited at a trade show, you know that one thing is true: it's expensive! So when you're looking for ROI from each show, every penny counts. Each budget will vary from event to event, but in general, you can approximate the cost of your total event budget by multiplying the cost of your exhibit space by three. The average floor space costs about $21 per square foot. The way your budget then breaks down will fluctuate as well, but according to EXHIBITOR Magazine the average trade show budget looks something like this:
• Space = 33%
• Display – Trade Show Booths & Graphics (construction/refurbishment) = 18%
• Travel & Expenses = 18%
• Show Services (electricity, cleaning, drayage, I&D) = 12%
• Shipping = 9%
• Promotion = 8%
• Miscellaneous = 2%
Trade Show Displays
It is the cost of the display that will give the most variation from show to show. Do you purchase a display, and if so what type? Do you rent a display? What if you want custom graphics? The size of your display also affects shipping and transportation costs (as well as other hidden costs). If you do purchase a display, then you have to worry about its lifetime and reusability as well. According to E&E Exhibit Solutions, the average lifetime of a display is five years, and the average lifetime of graphics are only one year! This lifespan of course also decreases with the more shows you go to.
The table below covers just how crazy costs can get for custom displays at trade shows, and compares it to Georgia Expo's new product: Custom Exhibit Backdrop kits. When you're looking at the costs of purchasing, custom graphics, rentals, shipping costs, and the hidden costs of planning, set up and take down, and additional personnel…if someone were to offer you a better way to display, do you take it?
Custom Exhibit Backdrop Kits from Georgia Expo
Each Custom Exhibit Backdrop Kit includes a foldable drape support (like tent poles), universal clamps, a drape extension handle, and the 8.5oz wrinkle and fire resistant polyester custom designed backdrop. You can upload an image of your choice/design, use our design tool to create your own, or choose from pre-designed templates at no cost. For a small fee, a graphic designer can also create a backdrop design for you. This kit also allows you to attach the backdrop to any standard trade show booth. Since the image is printed using dye sublimation, you can expect a crisp, long-lasting, and photo-realistic design that will hold up for years and multiple uses. Each kit fits into a carryall bag that is small enough to be used as a carry-on for air travel.
With the base price of the custom backdrop being only $450, you can even create a new backdrop for each individual show you attend for less than the average cost of shipping, or over 25 custom backdrops for the price of some of the most expensive pop-up displays! Marketing teams in charge of your budget will love the reduction in costs and the increase in ROI, while your sales team on the floor will love hitting happy hour early with the quick set up and take down.
To learn more about maximizing your booth space, while minimizing costs, visit the Custom Exhibit Backdrop product page.