So you've purchased pipe and drape, and now you have an inventory on hand and it is ready to go. Maybe you're using it in in-house for a variety of purposes, maybe you're renting it out to your customers. Either way, having a convenient, safe, and effective way to store and transport your investment can be a lifesaver! That's where pipe and drape storage carts come in. With a full welding and powder coat operation with an additional 17,000 square foot facility on site dedicated just to cart production, we've specifically designed our products to be as efficient, practical, and useful as possible. Although we have a number of different types of carts, today we just want to talk about two of our most popular: the Drape Tele Cart and the Party Cart.
If you work with a number of drapes and drape supports, the Drape Tele Cart may be a solution for you. Georgia Expo's Drape Tele Carts cut down on labor costs while also eliminating wrinkles, keeping your drape organized and ready to go. This best-selling cart will quickly become one of your biggest time savers. It holds 80 pre-strung drape supports, and an average of 320 panels of banjo drape (number of panels may vary based on fabric width, height, and type). Check out the video below to learn more.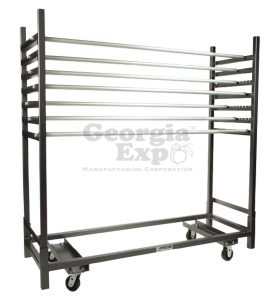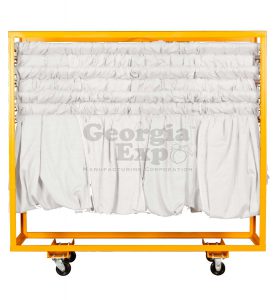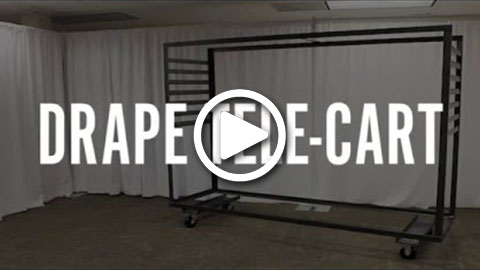 For the all-in-one option, one of our Combination Carts is the way to go for storing varying product all on one cart. Out of those options, the Party Cart is the most popular because it keeps everything you need in one neat and organized location. It's the only combination cart we offer that also gives you the ability to leave your drapes pre-strung on the cart and ready to use. This eliminates the need for folding and helps keep your drape wrinkle-free and ready to use at any time. The party cart holds 250 feet of pipe and drape back wall while our Party Cart Plus features an additional section for your 3' uprights and stores 20 in-line booths. Carts come standard with a silver vein powder coat finish, but powder coating is available in many colors to fit your branding needs.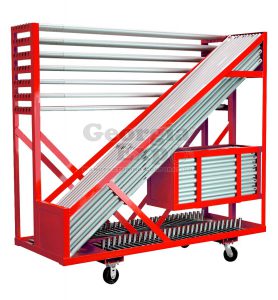 Also, remember since we weld and powder coat all our storage carts in-house, custom designs are not a problem!