Georgia Expo is proud to be a flexible business; after all, we are the leaders in innovation when it comes to pipe and drape. In these challenging times, this is a valuable skill to have. If you follow us on any social media, you know about our efforts in creating isolation rooms for pop up hospitals and fabric face masks. Now that we are getting ready to reopen, here are our new product designs, specially designed for social distancing in an office environment.
We sat down with our product designers and also reviewed our state's reopening guidelines and tried to envision what a post quarantine workplace looks like. We realize that even though social distancing will be our new regular, feeling connected is becoming more critical than ever. So we are offering all our distancing products with the option of clear vinyl dividers.
Distancing Partition Walls & Divider Cubes
As a business ready to reopen, you have probably checked CDC guidelines, you are disinfecting more, and you are providing hand sanitizers to your customers. Here is what else you can do to keep you and your community safe and happy.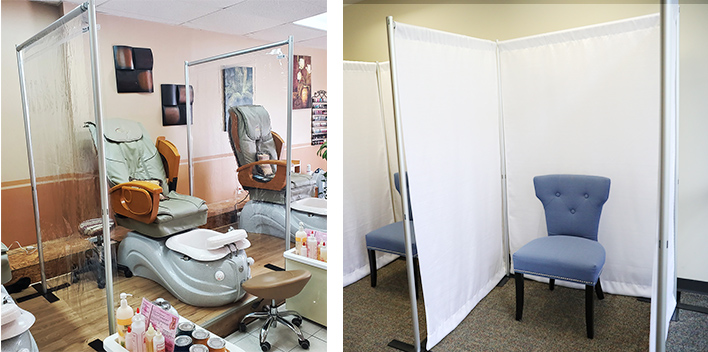 Enhance your space with our social distancing walls. The kits come in fabric or clear vinyl to provide additional barriers and separate guests and staff to guard against potential exposure. Also, these kits can be completely customizable for your setting.
The social distancing cubes are a lot like our distancing walls, but they provide cover from 3 sides. They are great for waiting rooms, lobbies, or work station separation. Prioritize personal space with these great products. They will leave your customers and employees feeling safe and cared for.
Reusable Fabric Face Masks
Upon visiting Georgia Expo, our clients and staff can expect to be given a mask for the duration of their visit. The masks we distribute to our employees and visitors are sewn in our facility here in Suwanee, Georgia. Georgia Expo currently makes four different mask styles, in 4 different sizes – including kids'!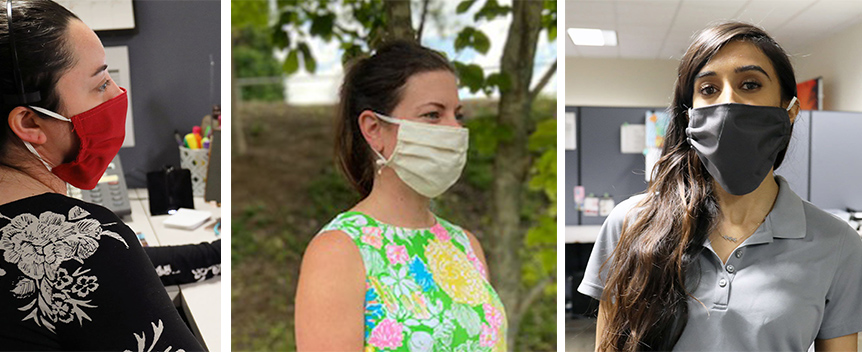 Although the masks are non-medical they are double-layered like the CDC guidelines suggest and protect from potential infection. They are made from cotton or polyester. They are washable, reusable and made local.
Sewing Capacity
The Georgia Expo sewing department is ready to assist you in any of your sewing needs. With over 60 sewing machines, operators are ready to assist. We are equipped with multiple Juki industrial single needle lockstitch machines and five thread true safety stitch overlock (serger) machines and are set up for high volume sewing. If you're looking for surge sewing capabilities, we're here to help. Bottom line: we can fulfill any sewing need.