FOR IMMEDIATE RELEASE: 07/29/15
Kevin Schultze, Internet Marketing Specialist
Georgia Expo
770.447.4339
[email protected]
GEORGIA EXPO OFFERS
Custom Stage Skirting
---
Suwanee, Georgia: (June 29, 2015) – Georgia Expo has expanded their line of customization to not only drapes but also to popular finishes in stage skirting.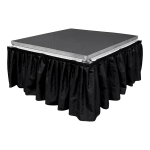 "We've been taking custom orders for stage skirting for years, but we've yet to really promote it, especially online," says Brielle Guta, Marketing Manager of the company, "as our audio/visual and production customer base continues to grow we want to make sure that they know we have these options available."
With a warehouse located inside their main office, as well as a 30 member sewing department, taking custom orders for drape or stage skirting is commonplace. Since we sew this product in-house, buying direct also ensures both the highest quality and the most competitive pricing possible.
In the industry most stage skirting consists of either a Poly Knit or Poly Premier fabric base. Poly Knit is a 4.2 oz., 100% polyester low-cost convention fabric with a fine silk look. It has become the popular choice for convention and trade show table skirting. Poly Premier is a more professional and upscale fabric, with a linen-like look and feel and a flat or matte finish. All skirts are hand sewn using a Flame Resistant fabric. Each order ships with a Flame Certificate.
The standard pleat in the industry is the Expo Pleat, attached with a hook and loop backing. Box pleat is also available for an even more professional look. The stage skirting is typically sold in the most popular sizes and cuts, but custom orders are always available upon request.
Stage skirting with custom pleats are a staple in the audio/visual and production industries and used in theaters, churches, convention centers, or any event that desires an elegant touch to their staging.