DO plan your space.You typically only have 100 square feet, so the last thing you want to do is lose 30 square feet with a pop-up. In this picture to the right, you see that the exhibitor has lost quite a bit of real estate. I suppose they'll need that room for storing whatever container held that pop-up.
DON'T spend large sums of money on booth add-ons you're going to throw out.While larger companies aren't usually bothered as much by this, smaller exhibitors who use posters or vinyl backdrops and then throw it out after the show may long for something more cost effective. There are many options for booth customization that you can reuse time and time again.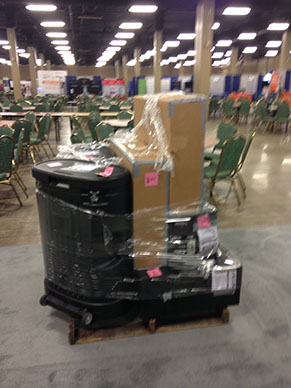 DO weigh the cost of a custom booth versus realistic sales gained from it. Don't go to the Southeast Regional Fruit and Vegetable Conference with flashing lights and TVs. Sure, more people might come to your booth and you'll definitely stand out, but people come to a fruit and vegetable conference for fruit and vegetables, not a host of televisions.
DON'T clutter your space. People will not take the time to stop at your booth if they can't figure out what your product is in a short amount of time. If you're overwhelming attendees with information and busy graphics, you're likely spending more and gaining less.
DO make your backdrop interesting. Your backdrop is 80 square feet, and often I see a plain white rectangular poster at the top of a company's backdrop with their name on it. This is absolutely fine- if you're not trying to stand out. If, however, you're trying to set the scene for your booth and prominently brand your company, perhaps utilizing this space will take you a long way!