Introducing our Reusable Drape Storage Container.  Designed for shipping and storing.  When you purchase this durable plastic box, we will pack and ship your drapes, skirts or other products inside instead of the traditional cardboard.  Take advantage of the convenience of having your drapes pre-packed and ready to go in the same container you can neatly and securely store your products in for their next use. Please reference the chart below to see how many drapes fit per container and add the appropriate number to your shopping cart.  If you are unsure, you can chat with us, call us at 1-800-433-9797 or email us at [email protected] and we can help you determine how many containers you need for your order.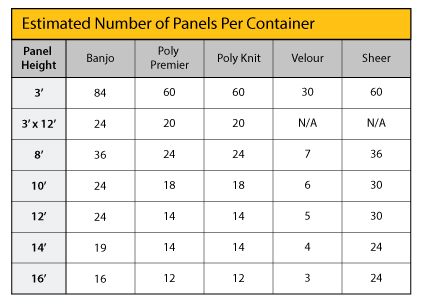 Product Specifications: 
25 1/4″ L x 13 3/4″ H x 16 1/4″ W (outside dims)
23 1/4″ L x 12 1/4″ H x 14 1/2″ W (inside dims)
High-Density Polyethylene Construction
Capacity: 45lbs
Stack Capacity: 5 Containers / 225lbs
Plastic Hinge Interlocking Closure
Weight: 7lbs
Color: Blue
Nests when open
Molded-In Hand Grips
Molded Reinforced ribs on the bottom for extra durability
Can be secured closed using a cable tie or padlock
CALIFORNIA PROPOSITION 65 WARNING: This product contains chemicals known to the State of California to cause cancer and birth defects or other reproductive harm.
For more information: www.P65Warnings.ca.gov
Disclaimer: Pipe and Drape should never be used where tip-over could cause harm or damage.