Pipe and Drape is an extremely useful tool for individuals or businesses working in the audio-visual and production field as it provides a portable way to easily mask wires or equipment, create backdrops for events, help with sound dampening/control, and a number of other uses. Browse our collection of products below or scroll down for more information on Pipe and Drape in the AV world.
Don't Rely on Expensive Last Minute Rental Costs, Buy Now and Save
The formula behind it is simple: Buy Pipe and Drape equipment from Georgia Expo, at the best prices in the industry, rent it out to your customers for their events and increase your revenue. If you aren't already following this formula, believe us, someone else is. Pipe and Drape remains the most economical way to create and define space, and the best solution for companies catering to events because it pays for itself in as little as two rentals.
By purchasing Pipe and Drape from Georgia Expo, your Audio Visual and Production, Sound and Lighting business can benefit from having your own inventory in-house, allowing you to manage all aspects of the events yourself, eliminating the dependency on outside vendors and increasing the percentage of revenue you can keep.

Products that Meet the Unique Needs of Audio Visual Production Companies
Our Duvetyne drape is used for temporary masking and draping where light reflection is undesirable. Typical applications to control light spill include film and photography studios, theatrical sets, audio-visual presentations, curtains, and scenery. Our Commando drape is a low-cost alternative to Velour. You can use this fabric as blackout drape or masking cloth. It is a flame resistant 100% polyester fabric with a felt-like, brushed matte finish and is the top choice for blackout fabric on a budget. Additionally, our drape can be sewn with custom top pockets to mask uprights and we can powder coat any of our slip collar uprights to create a smooth black finish that matches the draping.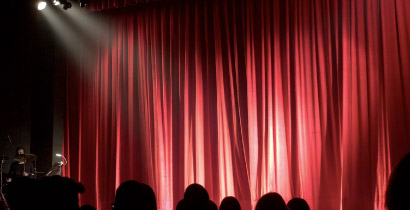 Drape and Fabric
Besides the masking capabilities of Commando and Duvetyne by the roll, Performance Velour is a high-quality masking fabric that comes in a variety of colors. We also have a fully-staffed in-house sewing team ready to take orders large and small, custom or otherwise, in a number of finishes.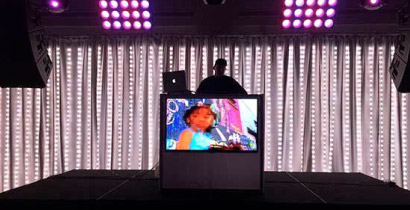 Extend the Life of Pipe and Drape – Use it For Multiple Events
We're proud to be the first Pipe and Drape manufacturing company in the U.S. to make a polyester based Duvetyne and Commando Cloth. Unlike the cotton-based industry standard that is not washable, our polyester-based fabrics are washable and reusable and hold their flame retardant status longer. Typically a lot of Audio Visual production companies will send out a 50-yard roll per job, use what they need, tear it down and throw it away. Now that our fabric is washable, you can extend the life and use of it for multiple events – without an additional cost!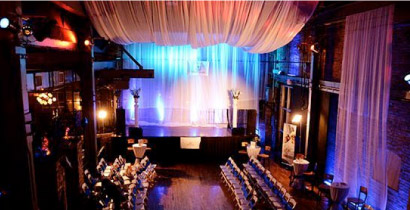 Pipe and Drape is Only the Beginning
Traditionally we have found that most Audio Visual Production companies use Pipe and Drape at shows, concerts, or other events to create backgrounds, define AV Tech areas, drape rooms, and hide wires or other audio equipment. However, there has been a growing trend of our customers to purchase not only the back walls and backdrops but also tables, crowd control stanchions, and storage carts.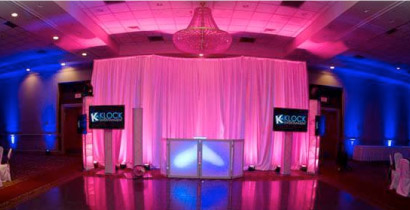 Low Prices that Meet Every Budget and Guarantee a Quick ROI
Did you know that the purchase 200' of Pipe and Drape pays for itself in less than two rentals? Belt Barrier Stanchions pay for themselves after three days of renting and 8' tables pay for themselves in just four rentals.
Remember, we're also always here to help. We're in the business of providing you with the products you need. Feel free to give us a call anytime at 800-433-9767 to ask any questions. Visit our Pipe and Drape Kits page to eliminate the guesswork and choose from pre-designed packages. Check out our YouTube channel as well for How To's and step-by-step setup guides.