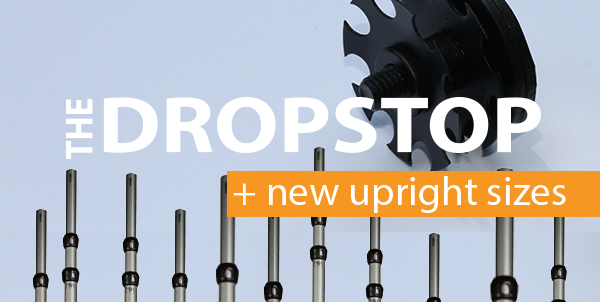 Do you have problems with damaged and broken Slip Collar telescoping uprights? This experience is not pleasant, especially when you've spent many toiling months planning an event using uprights. Our customers are well aware of the obstacles that come along with owning and working with uprights, which is why we listened to your concerns and found the perfect solution!
Today we proudly and officially release our latest upgrade: The DROPSTOP. It may have a simple name but it's far from it. The DROPSTOP was designed and engineered by Georgia Expo but to be more precise, its production was mainly on behalf of our CEO, Philip DiTrolio. The DROPSTOP is a feature that has been installed in every Slip Collar Telescoping Upright since June of 2014.
The DROPSTOP is a metal stopper with a rubber head that is installed in the bottom of the upright. This upgrade stops the inner pipe from falling through and hitting the floor. It also stops the metal on metal contact by absorbing shock of the collars and creating a cushioned fixed stopping point. The DROPSTOP allows the upright to be used correctly, even if you or someone else does not take down the upright correctly. Think of it as an extra layer of protection for your upright!
At Georgia Expo we strive to make products that will last. The DROPSTOP is another example of our ongoing commitment not only to the industry but more importantly to you and your business. Thank you for choosing us and we hope you enjoy the benefits of using the DROPSTOP.
Facebook: https://www.facebook.com/GeorgiaExpoManufacturing
Twitter: https://twitter.com/GeorgiaExpo
Instagram: http://instagram.com/georgia_expo
Pintrest: http://www.pinterest.com/georgiaexpo/
Youtube: https://www.youtube.com/user/GeorgiaExpo
Be on the lookout for this cost free upgrade with your next order! Ask us how to upgrade your existing Slip Collar Uprights with your next order!
CEO Letter!
Friends & Colleagues,
It's my mission to provide the most durable and reliable products in the industry! This relentless quest sets Georgia Expo apart from the competition. Two years ago we introduced a new telescoping upright to our line – the Slip Collar Upright. Upon release of this product you told us some of the challenges you have faced and we made it our goal to find a solution.
I worked with several of you to resolve these issues and listened to your feedback. After extensive research and development we concluded that when the upright is lowered incorrectly the two collars hit, and over time damage the upright. There was also the issue of the inside pipe falling through the outside pipe onto the floor.
To address these concerns we are now introducing an upgrade on all Georgia Expo Slip Collar Uprights, the DROPSTOP. This unique device is located just above where the pin stops inside the upright and prevents metal on metal contact. It also insures that the inside pipe will not fall through to the floor. I hope you enjoy the capabilities it offers and we look forward to your feedback.
Be on the lookout for this cost free upgrade with your next order!
Philip DiTrolio
1-800-433-9767
See what Pipe and Drape can do for you!