Poly Stretch™ is a newly designed fabric by Georgia Expo.  It's a two-way stretch fabric with zero, to minimal wrinkle.  It's a 75% blackout material, much more opaque than our traditional Poly Premier fabric. It's an affordably priced fabric that hangs beautifully and is ultra-easy to care.  The initial response showing this fabric at trade shows has been tremendous.  This will quickly become a top-seller.  Don't miss your opportunity to get Poly Stretch™ Drape and take advantage of all the fantastic attributes.
The Georgia Expo Difference.
All panels come standard with 4″ pockets on both the top and bottom of the drape so it can be hung both ways, extending the life of the panel. Our sewing team double-back-tacks each first inch of the pocket so that the 1st critical inch that's used to string your drape support has extra durability. When we cut the drape, we lay out each panel flat on our tables to relax the bias of the fabric, ensuring a straight and even cut each time.
Like most fabrics, Poly Stretch™ can be dye lot sensitive. We use a color scanner to take the human eye out of the equation when matching dye lots. If you already have Poly Stretch™ Drape in your inventory, we are happy to match your dye lot as close as possible. Just give us a call (1.800.433.9767), and we'll look up your last order and send you out the closest dye lot match for your approval. If this is your first order, we'll keep your shade number on file, and if asked, will match it as close as possible for your next order!
Poly Stretch™ Drape is typically sewn off a 60″ wide roll, and we recommend three panels per 10ft. Section of Pipe and Drape to obtain 50% fullness. (Ex. using three panels, 58″ wide you will have 13ft. of the drape on a 10ft section.)
Inherently Flame Resistant (I.F.R.)
Passes NFPA 701 Test Method 1, CA Title 19, Section 1237 Small Scale, CAN/ULC-S109-14 Small and Large Scale
100% Polyester Fabric with a clean, sleek look
2-way Stretch Fabric (stretches left to right)
6oz
58″ Wide
All Georgia Expo Fabrics ship with a Flame Certificate
Sewn to order
We offer custom labels for drape panels at an additional charge. To order custom labels on your drape panels, please call our sales team to place your order.
*CAN/ULC-S109-14 Small Scale Flame Test effective on fabric purchased after March 30th, 2017.
*CAN/ULC-S109-14 Large Scale Flame Test effective on fabric purchased after February 30th, 2018.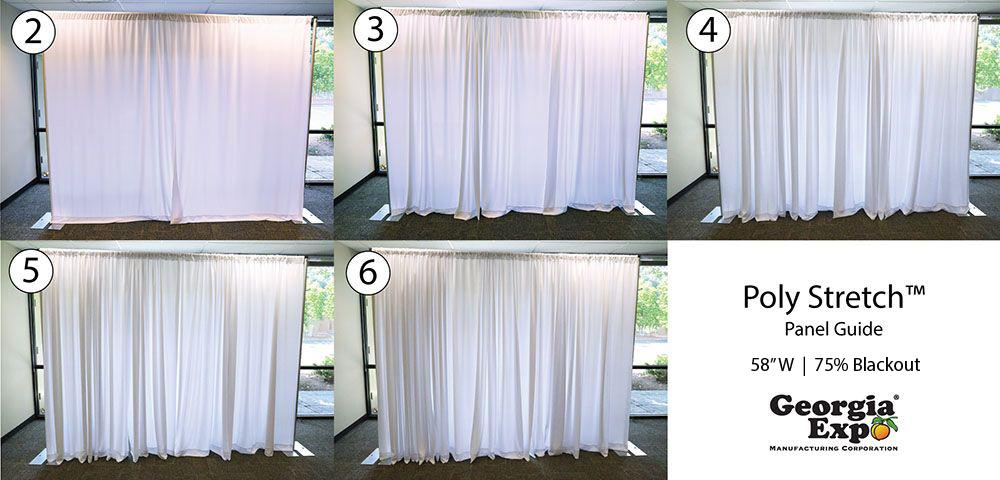 *Due to differences in photography, lighting, color correction and screen color variances our online images may not be an exact color match to the fabric.  To avoid discrepancies, please order a free fabric sample before ordering.  We do our best to represent each color as accurately as possible, but please note that all drapes are made to order and non-returnable.
*Please note that it's industry standard to sew Poly Stretch™ Drape 2″ shorter than full length to prevent it from touching the floor. We are happy to accommodate full-length drape if requested; please make a note in the cart if you'd like your drape sewn to full length. The standard dimensions are listed above.
*Please note that while not common with Poly Stretch™, dye lots can vary. If you are trying to match existing inventory, please request a dye lot sample from a sales representative.
*Please note, while not common, the drape can vary in height/width +/- 1″.
View all of our available color options
CALIFORNIA PROPOSITION 65 WARNING: This product contains chemicals known to the State of California to cause cancer and birth defects or other reproductive harm.
For more information: www.P65Warnings.ca.gov
Disclaimer: Pipe and Drape should never be used where tip-over could cause harm or damage.