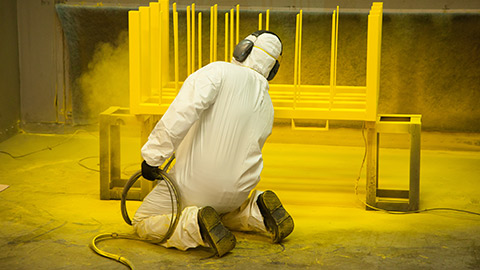 Our in-house welding and powder coating department allows Georgia Expo to manufacture the most durable and reliable pipe and drape carts in the industry (sometimes known as dollies or "carpet pigs"). All castors are bolted on for easy replacement, and we use nothing but steel end caps to extend the life of your investment. Each cart is powder coated, which is a superior finish compared to cheap paint jobs- we can also offer custom colors to match your company's branding. We customize each cart with a nameplate, which includes YOUR company name, cart type, capacity/ weight guidelines, and other safety information.
How do our customers get all of this product to events and where do they put it afterwards? Over the years we have engineered the perfect solution to storage and handling concerns: the Georgia Expo line of storage carts. We offer storage carts for pipe and drape and the majority of products we sell and they come in one of two primary classifications: Combination Carts and Single Product Carts. The picture you see below on the right is of a pipe cart. It is built to hold uprights and drape supports. The picture below on the left is of a combination cart (specifically, the party cart). It is built to hold pipe, bases, drape supports, and drape that is pre-strung on drape supports.Choosing the right cart is a matter of determining how the customer uses their pipe and drape.
Combination Carts are great for customers who:
Are using Slip Fit products.
Need a small storage footprint.
Want everything in one cart.
Do not need more than 250 feet of backwall coverage or 25 In Line booths.
These capabilities make them a favorite of rental companies and other customers who are putting out smaller quantities of product.
Single Product Carts are great for customers who:
Are using Screw In products.
Slip Fit options also available.
Are putting out a very large quantity of booths or backwall.
Are more flexible with storage space.