If you could change anything about Pipe and Drape, what would it be? Whatever that is to you, CastleTop® is the answer. We've spent years perfecting the NEXT™ development in Pipe and Drape and are proud to introduce CastleTop® This one-piece system replaces traditional slots in Uprights and is compatible with all Drape Supports on the market, meaning you can use your existing Drape Supports, no matter the style, with CastleTop®. CastleTop® will eliminate torn slots and damaged drapes from torn slots. It will also decrease your set up time and create even, no top bump drape walls. Maintenance-free, it will extend the life of your product and change the way you use Pipe and Drape.CastleTop® is a hard plastic piece installed at the top of any style Upright and replaces the slots as the new connector for your Drape Support. As the leader in Pipe and Drape, we heard your feedback and working together have created Pipe and Drape NEXT™ with our main goal to make it attainable and beneficial for everyone. Our aim is to make CastleTop® available at an affordable price as both pre-installed when you purchase Uprights or retrofit to your existing inventory.
Pipe and Drape NEXT™, the next advancement in defining and dividing space.
SAVE THE SLOTS
Eliminate torn slots in your uprights.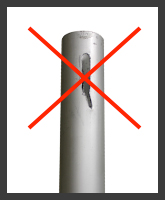 EASY
Simple, effortless setup and increased range of motion.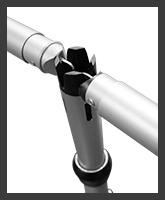 NO BUMP
Create seamless, flush drape walls.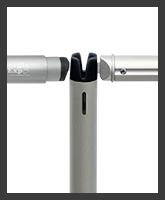 AFFORDABLE
You'd be crazy NOT to upgrade.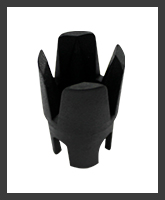 COMPATIBLE
Pairs with any style drape support on the market.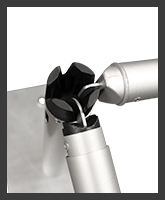 ERGONOMIC
Order preassembled or easily retro-fit any style of upright.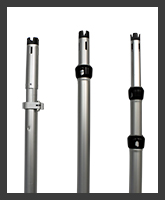 Georgia Expo's CastleTop® caps feature a 3-year Limited Warranty to ensure confidence in your upgrade, retrofit, or repair. If one of your caps breaks during normal use simply contact your Salesperson for an RGA and we will ship a replacement to you for Shipping and Handling only.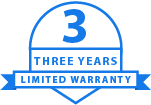 Non-Transferable The CastleTop® limited warranty only applies to the original purchaser.
Normal Use The CastleTop® limited warranty only applies to products used in industry standard practices for trade shows, exhibitions, theatrical or performance events, and related industries. It only applies when using industry standard Drape Supports and normal event fabrics and banners.