Decorate, Design and Define Space at Colleges and Universities
We've been helping colleges and universities decorate, design, and define their space for the past 30 years. Easy to set up, break down and store, having your own inventory of Pipe and Drape gives you the ability to manage entire events in-house and avoid costly rental prices.
Whether your University is looking for stage backdrops, table skirting, crowd control and directional needs, storage options, or to display logos or banners, Georgia Expo has the products needed to help you divide and define space, eliminate decorator/rental service costs, and provide you with the highest quality equipment at manufacturer direct prices.
SHOP WHOLESALE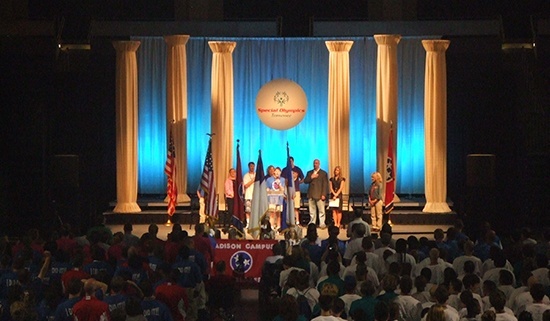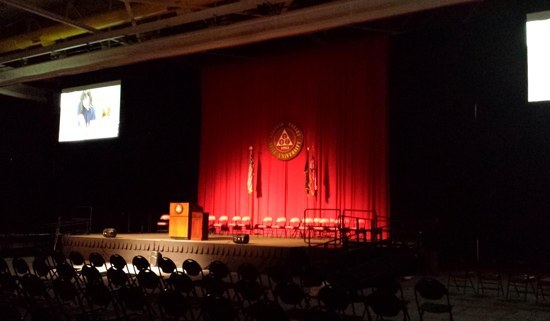 Create Dramatic Stage Backdrops for Theatre, Conference, or Sporting Events
Pipe and drape kits are the perfect means to create any stage backdrop. Kits vary in size, color, and fabric types including Banjo, Poly Premier, or a sound dampening (and light blocking) Performance Velour. All of Georgia Expo's fabrics ship with a Flame Certificate. We test to California Small Scale and NFPA 701, the standard flame tests in the event industry. Backdrops can be bought by the piece, custom design or with predesigned kits.
Add Skirting for Job Fairs, Student Life Event, or Faculty Meetings
Fitted table covers, table skirting, and stage skirting are perfect ways to add elegance, or hide unsightly materials and space. Poly Knit, or Poly Premier Fabrics are available for table skirting while stage skirting is available in Poly Knit, Performance Velour or Poly Premier. The most popular cuts and sizes are available online, but custom sizes, colors, and pleating are available upon request.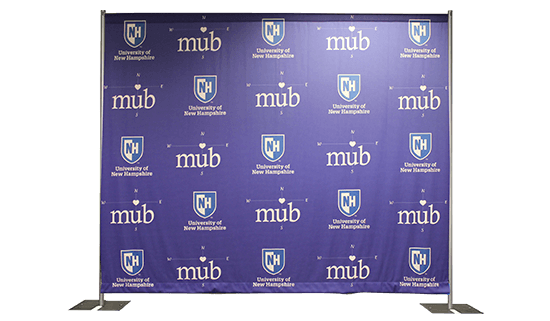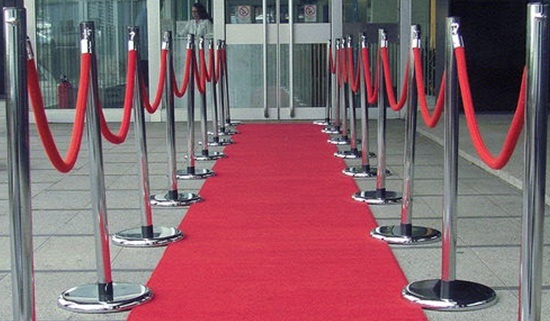 Extend Your Brand by Displaying a Custom Logo or Message
Dye Sublimation is a printing process that vaporizes solid dyes into a gas form and permanently seals a print onto the fabric. The result is a beautiful, vibrant print that holds up over time. This process is often used to create step-and-repeat patterns but is also perfect to display school or sports logos, images, and even photo-realistic prints. Custom printed fabrics are available for table runners, table skirting or for custom backdrops.
Use Stanchions and Easels for Crowd Control and Direction
Stanchions are a perfect medium to control and direct crowd flow. Georgia Expo offers a wide range of stanchion types, from outdoor plastic to polished chrome, to retractable belt barriers, and the elegant velour roping. A variety of Easels are available to inform or display information quickly and easily, with simple setup and take down. If you're buying wooden easels from an office supply store and replacing them from year to year, you should definitely check out our quick fold easels that have a lower cost and longer life.
Convenient Storage and Transportation Options
We know storage comes at a premium. All of our products are designed not only for easy setup and takedown but convenient and efficient storage and transportation. Each product has its own uniquely and specifically designed storage cart:
We know you're on a budget and need the right products at the right prices. That's why we have a dedicated department of our sales team specifically trained to service the unique challenges of colleges and universities. Call us at 1-800-433-9767, or email at [email protected]. Our team can provide you with spec sheets, pictures, dimensions, help explain what you need in any situation, and work with you to get a quote or bid completed. We're ready to help you eliminate any concerns about cost, storage, complexity, and help explain why buying ultimately saves versus renting.
EMAIL OUR SALES TEAM