Uprights are the vertical portion of the pipe and drape framework. Our most commonly sold uprights are 8' and 3' fixed height 1.5" diameter aluminum tubes with slots at 8' (8' only) and 3' (both 8' and 3' uprights) for drape support slots. These basic 8' and 3' uprights can be either Slip Fit or Screw In. The only difference is the addition of a threaded pipe riveted to the inside of the bottom of the Screw In upright.
Telescoping Uprights at Georgia Expo: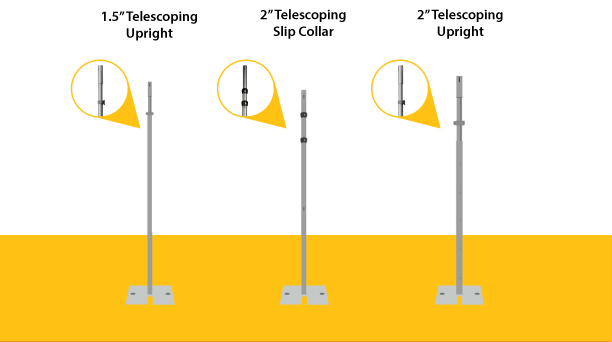 1.5" Locking Clamp/Button Lock (LCB) Uprights
This is our lighter choice for customers who need to hang lighter drape at a maximum height of up to 14 feet. It features button locks at 1 foot increments allowing the customer to quickly adjust to a specific height and a locking clamp on the inside (upper) pipe that allows the upright to adjust to any height between button stops. These uprights do not feature 3' slots for use in constructing trade show booths. All three available heights can ship ground if necessary, offering even greater economy for customers wishing to avoid the added expense freight shipments. These uprights are shipped with a small wrench which is used to adjust the tension nut on the locking clamp. It is the only tool required for their use. 1.5" LCB uprights are the only adjustable height upright offered as part of the screw in system.
These features make the 1.5" LCB the upright of choice for customers who already have 1.5" diameter slip fit/screw in inventory but wish to add the adjustable height functionality to their arsenal.
2" Slip Collar Uprights
Boasting improved functionality over our 1.5" LCB uprights in most aspects, the 2" slip collar upright is the adjustable upright of choice for many of our customers. It differs from the LCB uprights by method of adjustment: slip collar uprights use a ball bearing system that secures the inner pipe by gripping the upright as it goes down rather than the button lock/clamp system featured on the LCBs. This allows the customer to adjust slip collar uprights to any height within the specified height range without the need for any tools. A further advantage provided by the slip collar uprights over both 1.5" and 2" diameter LCB uprights is the ability to use 3 pipes to provide greater extended height without requiring extreme collapsed height. An 8' collapsed height limits the customer to a 14' extended height on both LCBs and two piece slip collars but provides an impressive 20' extended height on the three piece slip collar upright.
All slip collar uprights now feature the addition of drop-stop technology. The drop stop is a flanged insert with a rubber platform inserted into the outside pipe which prevents inside pipe pieces from collapsing inside the outer pipe. It also prevents the collars from coming into contact and becoming damaged in our three piece options.
These features make the slip collar the ideal choice for customers who require the largest extended height with the smallest possible collapsed height and who need to hang lighter fabrics over 14'. When in two piece configuration they are also less expensive than our other adjustable height uprights of comparable height, cementing them as an all-around top pick for adjustable uprights.
2" Locking Clamp/Button Lock (LCB) Uprights
Made with construction and function similar to the 1.5" LCB but improved in every way, the 2" diameter LCB is the best upright available today. It has superior weight capacity when compared to all other uprights and is offered in a maximum extended height of up to 20'. This high performance upright is the hardware of choice for customers with the most demanding requirements. Engineered to support heavier weight fabrics, signage, and banners, this is our best option.
These features make our 2" diameter LCB uprights the hardware of choice for customers who have to go high and heavy; frequently audio/visual production companies and trade show decorators who require coverage at great heights.
Upright Facts
Uprights form the vertical portion of a pipe and drape framework. They are the spine/legs in the skeleton. They come in a variety of shapes, sizes, and configurations to meet the needs of our customers. All of our many styles of uprights are built from aluminum. There are three categories of uprights: Fixed Height, Locking Clamp/Button Lock (LCB) Adjustable Height, and Slip Collar Adjustable Height. Fixed height uprights are built from a single piece of aluminum pipe while telescoping adjustable height uprights are made from an outside pipe at the true diameter and an inside pipe with narrower diameter which allows them to collapse and extend as a telescope does.
In addition to the variety of uprights we offer a number of accessories and customizations:
Extension Piece: For fixed height uprights we offer extension pieces in 2', 4', and 6' lengths with custom options available. These accessories slip into the top of the upright and add the specified height allowing greater flexibility.
Conversion Kits: Conversion kits are a useful addition to fixed height inventory. They are made of a length of smaller diameter pipe with a slotted cap riveted in place and the locking clamp attachment for the corresponding diameter. This allows the customer to turn any fixed height upright into an adjustable height telescoping upright.
Powder Coating: We offer powder coating in a rainbow of colors so customers can customize and personalize their purchase.
Valance Hangers: Valance Hangers allow the customer to hang an additional drape support from their upright. This makes it possible to hang valances, banners, signs, and more. They fit into existing slots on the upright. One size fits all.
Universal Drape Support Clamp: The universal drape support clamp offers unparalleled functionality. By attaching these one size fits all clamps to any location on adjacent uprights the user can hang a drape support at any height. Great for banners, valances, sign kits, screen kits, and more.
Additional Slots: Additional slots at custom heights can give the customer added functionality in a single upright.
Custom heights available.
Pole Covers: Pole Covers are typically made from poly premier and fit uprights like a sleeve. They are used when customers prefer to have the uprights appear to be a similar color as the drape itself rather than the contrast of the silvery aluminum.
For more information and pictures of these accessories, consult our uprights shop page.