Drape supports are the horizontal portion of the pipe and drape framework. The most commonly sold is our 6-10 Drape Support. It is adjustable from 6' collapsed to 10' fully extended with an additional button stop at 8'. Drape supports are compatible with any upright in any configuration.
Fixed – Economy – Premier: Georgia Expo's Drape Supports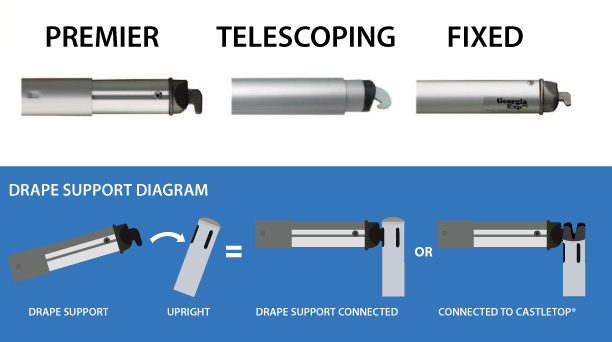 Fixed
Fixed drape supports are a rarity. These are usually only sold when a customer has very specific, unusual length requirements. Fixed drape supports are built out of the same materials as our premier line except they lack the ability to telescope and adjust length. They are built from an aluminum tube with cast aluminum hook end (with steel hook) riveted in place with two rivets.
Economy
Economy drape supports are telescoping drape supports built with the goal being a more affordable yet functionally similar product. They use a plastic hook end with steel hook riveted in place with a single rivet. This product is also similar in appearance to the drape support offered by our competitors, making it a great choice for customers on tighter budgets and those who wish to match inventory from other companies.
Premier
Our premier drape supports are our best-selling drape supports. Built with a special keyway tube, the premier line is designed so that the pipes never rotate out of alignment; the customer simply extends or collapses and the button locks at each stopping point without fail. The hook ends are made of more durable materials than the economy line, as well; cast aluminum bodies with steel hooks, two rivets on each hook end to secure them, and a raised rim give the premier line a strong finish as well as improved function. The raised rim prevents the narrower inner pipe from collapsing in so far that it jams in the outside pipe.
Our premier drape supports are the drape support of choice for the majority of our customers.
Drape Support Facts
Drape supports form the arms of the pipe and drape skeleton.
We offer several accessories for drape supports as well:
Valance Hangers: Valance Hangers allow the customer to hang an additional drape support from their upright. This makes it possible to hang valances, banners, signs, and more. They fit into existing slots on the upright. One size fits all.
Universal Drape Support Clamp: The universal drape support clamp offers unparalleled functionality. By attaching these one size fits all clamps to any location on adjacent uprights the user can hang a drape support at any height. Great for banners, valances, sign kits, screen kits, and more.
Sign Hooks: Sign hooks hang over a drape support and offer a location for signage and banners to attach. They are made of steel wire formed into an "S" shape.
See these and other options in our drape supports shop page.